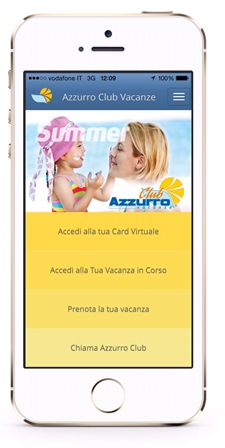 SIGN UP ON OUR FIDELITY PROGRAM
AND YOU WILL RECEIVE IMMEDIATELY €50 TO USE ON YOUR NEXT HOLIDAY.
Access to registration form and receive your credentials to enter in your personal area on Azzurro Club Vacanze App and start enjoying all advantages reserved to all Azzurro Club Custoumers!
Get immediately a bonus of €50 to use during your first stay, and you will have also the possibility to book your holiday with special discounts up to 25%
Using our App, You could verify your courrent credit, see all your previous stays, receive all informations about hotel booked and more!
Download the App "azzurro club vacanze" on your app store!
You can also increase your credit by inviting your friends to join themselves to our fidality program. For each friend who signs up by providing your user code, will be credited to your profile € 10.00 that you could discount on the final price of your next stay. The accumulated credit as an Azzurro Club sponsor is has no limit of cumulation with other offers, promotions or last minute of which you'll benefit confirming your next vacation.
Learn about becoming Azzurro Club SPONSOR: 
Forgotten your user? Click here to receive it now
---
Discover and request Azzurro Club Vacanze CARDS
AZZURRO CARD CLUB
Azzurro Club Vacanze provides you with a special Club Card that throughout every stay in one of our hotels tops up a credit amounting 3% of your actual holiday expense; this credit can be used during a further stay in one of our hotels for any extra consumption at our bar counter.
Moreover to Azzurro Club Holders will be reserved a discount from 15% up to 20%, based on period chosen and a reduction of 15% on each meals taken at "Trovatore" restaurant in Venice.
IF YOU HAVE NOT THE AZZURRO CLUB CARD YET, FILL IN THE FOLLOWING FORM TO REQUEST ONE, YOU WILL RECEIVE THE CARD WITH €50 TO USE DURING A FURTHER STAY IN OUR HOTELS.
---
AZZURRO CLUB VACANZA GIFT CARD
Are you looking for a real special gift for someone? Make an holiday present purchasing the Azzurro Club Vacanze Gift Card. You can request the gift card by clicking the "REGISTER" button here above choosing the amount you want to donate. Please fill in the name of the person to whom you desire to make the present and the address to which the card has to be sent.
---
What is the Azzurro Club Vacanze Gift Card?
1) The Gift Card is a prepaid gift certificate which can be spent in all hotels belonging to the Azzurro Club Vacanze Group.
2) The Gift Card can be purchased by filling in the request web form on our website www.azzurroclub.it or by getting on to our booking centre.
3) The Gift Card can be topped up with any amount you desire, from a minimum of € 100,00 to a maximum of € 5000,00, and the credit is not submitted to any expiration date.
4) The holder of the Gift Card can settle his holiday expenses directly in the hotel at the check-out passing to account the credit on his card. An eventually remaining amount can be settled in any further stay.
5) In case the holiday expenses should exceed the credit topped up to the Gift Card, the residual sum can be paid by the Gift Card holder choosing any way of payment.
6) The amount topped on the Gift Card is non-refundable in any way.
7) Property rights and use of the Gift Card pass from the acquirer to the beneficiary of the gift from the time when the card is purchased.
8) The gift card is not transferable and cannot be sold to third parties.
How to make the card become effective:
-After having required your gift card, please make a bank transfer for the benefit of Azzurro Club Vacanze of the amount desired (from € 100,00 to € 5000,00). In the payment reference we kindly ask you to mention the card beneficiary's name.
-Subsequently we would appreciate being informed about the executed credit transfer in order to deliver the Gift Card to the beneficiary as quickly as possible.
THE AZZURRO CLUB VACANZE GIFT CARD CAN BE USED IN CONJUNCTION WITH ALL SPECIAL OFFERS AND PROMOTIONS, LAST MINUTE AND LAST SECOND OFFERS PUBLISHED ON OUR WEBSITE.
---
AZZURRO CLUB COSTA DEL SOLE PLATINUM CARD
This card is reserved to our regular guests who since more than 5 years regularly spend at least one day in a year of their holidays in one of our hotels. The holders of this card anytime get a 25% price reduction of list prices, even if they make their reservation on very short notice. Moreover, the Platinum Card holders are not obligated to confirm their reservation with a down payment. If you belong to those who are entitled to having this card, you can request it by sending an e-mail to info@azzurroclub.it.
---
YOU ARE HOLDER OF ONE OF THESE CARDS?
Please login and check your credit: